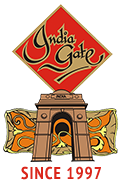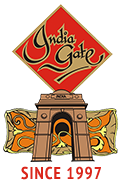 © indiagate
Menu
We specialize in three different upscale indian kitchens
Tandoori – Mix – Grill

Tandoori Mix Grill (Für 1 Person)

Hühnersuppe,Hähnchen Tikka,Lamm,Seekh Kabab, Fisch, Garnelen, Gegrillt Im Tandoor, Mangocreme Als Dessert Chicken Soup,Chicken Tikka,Mutton,Seekh Kabab, Grilled In Tandoor,Mango Cream As Dessert

21,90

Tandoori Mix Grill (für 1 Person)

Hühnersuppe,Hähnchen Tikka,Lamm,Seekh Kabab, Fisch, Garnelen, Mangocreme /chicken soup,chicken Tikka,mutton, Seekh Kabab, mango cream

21,90

Tandoori Mix Grill (für 2 Personen)

Hühnersuppe,Hähnchen Tikka,Lamm,Seekh Kabab, Fisch, Garnelen, Mangocreme / chicken soup, chicken Tikka, mutton, Seekh Kabab, mango cream

42,90
Indische Tandoori Spezialitäten (Grill) / Hähnchen /Pute /Lamm

Der Tandoor besteht aus einer krugförmigen Tonröhre ,die von innen mit Holzkohle beheizt wird. Auf diese Weise erhält das Fleisch bzw,auch Fladenbrot (Naan)ein besonderes Aroma. Das Fleisch wird innen knusprig und bleibt innen zart und saftig.
Murgh Malai

Hähnchenbrust filet, zubereitet mit Sahne u.grünen Gewürzen chicken, prepared with cream and green spices

13,90

Murgh Bharti (scharf )

Hähnchenbrustfilet,mit ind.Trockenen Gewürzen in Joghurt-Masala chicken,prepared with Indian dried spices in joghurt masala

13,90

Tandoori Murgh

Hähnchenkeule fein gewürzt mit Safran u.in Joghurt-Masala eingelegt chicken prepared with saffron and marinated in joghurt masala

13,90

Chicken Tikka

Hähnchenbrustfilet,gegrillt im Tandoor mit Kornmehl u.Zitrone boneless chicken, grilled in Tandoor with gram flour and lemon

13,50

Kashmiri Kabab (mild)

Hähnchenbrustfilet,zubereitet in Ei,Sahne, gemahlenen Cashewnüssen, boneless chicken prepared with egg,cream sauce and mashed nuts

13,90

Reshmi Kabab

Hähnchenbrustfilet,Safran,Ingwer,gemahlenen Cashewnüssen und hausgemachtem käse / chicken, saffron,ginger,mashed nuts and cottage cheese

14,50

Mughlai Kabab

Hähnchenbrustfilet,mariniert in Eigelb mit Kichererbsenmehl,Mughal Art boneless chicken marinated in gram flour with egg in Mughal style

13,90

Pute Tikka

entbeintes Putenfleisch,gegrillt im Tandoor mit Kornmehl u.Zitrone boneless turkey,grilled in Tandoor with flour and lemon

14,50

Barra Kabab / lamm

Lammfilet marinierte in exotischen kräutern Gewürzen f.Käse Knoblauch Lamb prepared with exotic herbs, spices, garlic and cottage cheese.

16,90

Mutton Tikka

Zartes Lammfleisch, zubereitet mit trockenen Gewürzen mit Joghurt mutton grilled in tandoor, prepared with dry spices with joghurt

16,90
...MwSt. Inklusiv / Anderungsvorbehalten...
---